The Martyrs Foundation – Hajjah
On Sunday , a  cultural event in Hajjah province was held in conjunction with the anniversary of the martyrdom of Sayyad. Hussein Badr al-Din al-Houthi, pace be upon him, with  a major public and official presence.
The event included many speeches and poems that deal with the life of the leader martyr, his great sacrifices, his patience, and his steadfastness in the face of the arrogant people whom were enraged by his slogan calling to expose the real enemy of Islam and Muslims. He revealed with the Quranic project the American and Israeli project aiming at tearing apart the countries under the pretext of fighting terrorism and other false pretenses.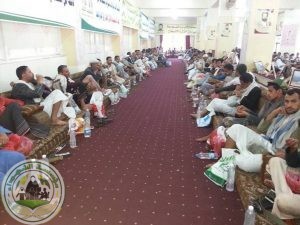 The attendees then listened to the speech of Commander Abdul Malik Badr Al-Din Al-Houthi, the leader of the revolution ,who delivered it for the occasion .